Early Childhood Services & Locations
Our Educational Service Center works with local school districts and Board of Developmental Disabilities in Hardin County to provide early childhood education for children ages three to five. We believe inclusive instruction is essential to child development which is why our classroom have a blend of special needs children and children that are typically developing peer models. Opportunities to explore, play, and learn occur within the natural routine. Targeted interventions to support each child are embedded to ensure all children are engaging in developmentally appropriate activities.
We also believe it takes a village to raise children. We partner with families through an open door policy, parent education events as well as family engagement events throughout the year. Community agencies partner with us to ensure successful events through financial support and volunteering.
Liberty Village Preschool #1 & #2
419-634-6421, LVP#1 – ext 1090; LVP#2 – ext 1091
Monday-Thursday AM: 8:00-11:15 PM: 11:50-3:05
Located at Ada Exempted Village School
725 W. North Avenue, Ada
Little River Preschool #1 & #2 & #3
419-757-3231
LRP#1 – ext 1003
LRP#2 – ext 1011
LRP#3 – ext 1009
Half Day: Monday-Thursday AM: 8:00-11:15 PM: 11:55-3:10
Full Day: Monday-Thursday 8:00 – 3:10
Located at Upper Scioto Valley Local School
510 Courtright Street, McGuffey
Victory Garden Preschool #1 & #2
937-354-2141
VGP#1 – ext 1203
VGP#2 – ext 1212
Half Day: Monday-Thursday AM: 8:15-11:30 PM: 12:00-3:15
Full Day: Monday-Thursday 8:15 – 3:15
Located at Ridgemont Local School
560 West Taylor Street, Mt. Victory
Northern Lights Preschool
419-759-3515 ext 1416
Monday-Thursday AM: 8:00-11:15 PM: 12:00-3:15
Located at Hardin Northern Local School
11589 State Route 81, Dunkirk
What is special about our classrooms:
· Our curriculum is aligned with Ohio's Early Learning Development Standards.
· All of our programs are licensed through Ohio Department of Education.
· All of our teachers have a bachelors degree or higher in Early Childhood or Special Education.
· Children with and without special needs are able to learn and develop together.
· Our classrooms are within the local school district, which makes transitions easier.
· We support and collaborate with families through home visits, parent teacher conferences, and parent education opportunities.
· Provide comprehensive child development services and screenings that address all developmental domains.
· Related services are in the classrooms on a weekly basis
Preschool Evaluation Process
How do I have my child evaluated?
A parent/caregiver, teacher, or doctor can do a referral. All referrals go through our Early Childhood Coordinator. Our coordinator and another preschool staff member will arrange a time to visit you and your child in your home. We will observe and interact with your child to gain an understanding of their level of development to see if a referral for an evaluation is needed.
If concerns are noted with your child's development, a referral for an evaluation will be done.
How do I have my child evaluated?
We believe that young children are best assessed by observing them in their natural play environment. Members of our team will visit your home to observe your child, and your child will also attend a Play Based Assessment in one of our classrooms.
As a caregiver, we will interview you for background and additional information.
When working with your child, we will be looking at the following areas:
· Language and Communication
· Fine/Gross Motor
· Cognitive
· Adaptive
· Social Emotional
· Visual
· Hearing
If concerns are noted with your child's development, a referral for an evaluation will be done.
Who will be a part of the evaluation process?
All teams will consist of the parents/caregivers, special education preschool teacher, early childhood coordinator, district representative.
Based on your child's needs a school psychologist, speech therapist, occupational therapist, physical therapist, vision specialist or audiologist may be involved as well.
How do you determine if my child is eligible for services?
After all evaluations are complete, we will hold a team meeting to review our findings.
A preschool child with a disability is a child between the ages of three and six years of age who has a delay in one or more areas of development.
What are my options for services?
Preschool children who are found to have a delay in development will have an Individualized Education Plan developed to address their delays.
Itinerant services can be provided in the least restrictive environment as agreed upon by the team.
Related services such as occupational therapy, physical therapy, speech therapy, etc. will be provided in an educational setting.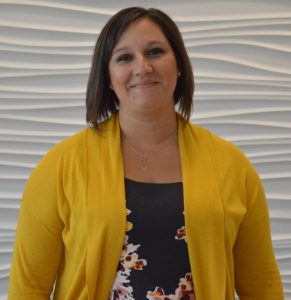 Director of Early Childhood
MONTHLY TUITION:
Half Day Class: $145 (Full)
$85 (Reduced 151-200%) ** $80 (Reduced 101-150%)
Full Day Class: $260 (Full)
$155 (Reduced 151-200%) ** $130 (Reduced 101-150%)
*Tuition rates may vary from year to year
*All of our classrooms offer a sliding fee scale
based on income
If you would like additional information regarding Early Childhood services or would like to register for a developmental screening, please contact Lori Berger, Director of Early Childhood, at 567-674-5447 or lberger@mresc.org
If you live within Logan and Shelby Counties, please contact your local school district or Board of DD for information on Early Childhood services in your area.